New to the ASEAN market, Sentricon AlwaysActive allows pest managers to install termiticide rods around the perimeter of a property from day one.
Since 2000, the Sentricon Termite Colony Elimination System has been used with great success in many ASEAN countries. Now the next generation of complete termite colony elimination is making its way into the ASEAN market, with the introduction of the Sentricon AlwaysActive System. With new, ground-breaking technology, Sentricon AlwaysActive is redefining termite baiting.
Many pest managers will already be familiar with the Sentricon system of termite baiting. Malaysia, Singapore and the Philippines were early adopters of the in-ground baiting technology in 2000, followed by Thailand and Indonesia in 2003 and Brunei in 2006. At this time, the bait being used was the second generation Recruit II. This was subsequently replaced with the third generation Recruit III PTC in 2005 and has been used until now. Over the last 20 years, termite infestations have been resolved, colonies eliminated, and word of mouth has spread. To many pest managers and homeowners, Sentricon needs no introduction.
The Sentricon system has continued to evolve, bringing new innovations to the market. Now, the Sentricon System with AlwaysActive technology is redefining the way termite baiting works. It offers a new approach: the ability to use a non-intrusive termite bait that is always present on site, which eliminates termite colonies all while having minimal exposure in the environment. Rather than adding the bait when required, the new system sees the bait installed right from day one.
The Sentricon System with AlwaysActive technology comprises two components: firstly, the newest version of the bait, Recruit HD, in the Ready-to-Install Inground stations; and secondly, the latest Recruit AG bait in the Above-ground stations. The active ingredient content (0.5% hexaflumuron) is unchanged and is as effective as it has always been in eliminating termite colonies.
Unlike its predecessor and other baiting approaches, the Sentricon Ready-to-Install In-ground stations are all pre-loaded with the new Recruit HD from the very beginning, so termites can begin feeding on it as soon as they find a station. The unique bait matrix is highly desirable to termites, and studies have shown it to be more palatable and preferred over wood itself.1
The Sentricon Ready-to-Install In-ground stations are installed around building perimeters, and the Recruit HD bait remains in all the Sentricon stations all the time to intercept termite activity in the area. As such, it has been formulated to be highly durable and can stay in the ground for up to five years. A study by Eger et al. (2014) found the Recruit HD rods "would be durable for at least five years and possibly longer under most environmental conditions." In addition, the Recruit HD bait rod is highly dense weighing 150 g, which means there is 2.5 times more bait per station as compared to the old system, enough to eliminate a typical termite colony.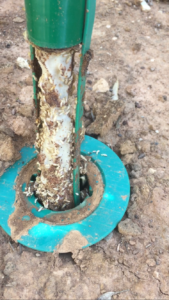 To complement the In-ground stations, the Recruit AG above-ground stations aim to eliminate an existing subterranean termite infestation directly at the active infestation sites. This AG bait can be installed at various points on both interior or exterior surfaces of infested structures, such as crawl spaces, fences, utility poles, landscaping features, and trees. Together, the in-ground and above-ground components of the Sentricon AlwaysActive system offer a complete subterranean termite management tool for pest management companies.
For those wanting a termite monitoring system, the Sentricon AlwaysActive system is a quick and simple solution. It is easy to install and maintain. No more tedious wood replacements or bait preparation during inspection visits – a visual assessment of the property and the Recruit HD bait rods is all that is required. Inspection visits can be stretched up to six months, allowing pest managers to work in an efficient and flexible way. It also means more clients can be serviced at any given time.
Customers can be reassured that their property is protected 24/7. The colony elimination process begins sooner at the site as baits are readily available for termites to intercept. Importantly for ASEAN countries where rains and flooding are frequent, the Recruit HD rods remain both palatable and efficacious even when the baits have been waterlogged for extended periods. The termiticide rods continue to protect the property no matter the soil conditions, weather or season. No replacement is needed until they are consumed by termites. Property owners can also be reassured that the in-ground stations can easily be removed and relocated as needed, making it a highly flexible system.
What about its effect on the environment?
The Sentricon System won the 2000 US EPA Presidential Green Chemistry Challenge Award, a top US environmental award that recognises technical innovation that is environmentally responsible.
Sentricon has been designed to have minimal environmental exposure; the active ingredient is locked within the bait matrix and does not leach or leak. It poses no risk to pest managers, their customers, their pets or the environment. Furthermore, the Sentricon system can be removed at any time. It was the first product registered under the Reduced Risk Pesticide Initiative of the US Environmental Protection Agency.
The award-winning Sentricon system offers peace of mind unparalleled by any other termite management system. To date, more than 70 independent studies attest to its efficacy, many of which have seen top termite researchers across the ASEAN region aiming to evaluate how it performs under local environmental conditions and against local termite species.2, 3, 4
Sentricon has truly been an evolution that started with the wood flour Recruit bait and has now developed into a durable high-density bait protecting homes and properties against subterranean termites. The Sentricon journey began in 1995 and is still going strong.
Most pest managers who switch to the Sentricon System with AlwaysActive technology find that they have more flexibility with their labour scheduling, are able to achieve greater profit and have greater peace-of-mind, knowing their reputation and business is safe.
References
1 Eger, Joseph & Lees, M.D. & Fisher, M.L. & Messenger, Matthew & Tolley, M.P.. (2011). Discovery and Consumption of a Novel Durable Bait Matrix by Subterranean Termites (Isoptera: Rhinotermitidae). Sociobiology. 58. 651-666.
2 Lee, C.-Y. 2002. Control of foraging colonies of subterranean termites, Coptotermes travians (Isoptera: Rhinotermitidae) in Malaysia using Hexaflumuron baits. Sociobiol. 39: 411–416.
3 Sajap, A. S., S. Amit, and J. Welker. 2000. Evaluation of hexaflumuron for controlling the subterranean termite Coptotermes curvignathus (Isoptera: Rhinotermitidae) in Malaysia. J. Econ. Entomol. 93: 429–433.
4 Chiu, C. I., Y. A. Chuang, W. R. Liang, H. T. Yeh, H. Y. Yang, M. J. Tsai, N. A. Spomer, and H. F. Li. 2022 Jan; Area-population control of fungus-growing termite, Odontotermes formosanus, using hexaflumuron durable baits. Pest Manag Sci. 78(1):104-115.