Pest Control in Australia – Treatments, Prevention Tips, FAQ
It's a great feeling to know that your family and home is protected from pests. After all, your home is your castle and you don't want any unwanted visitors. A professional pest control treatment gives you a pest-free home and that all important peace of mind.
With a professional pest treatment you are buying expertise and guaranteed results, but it's a lot more than that…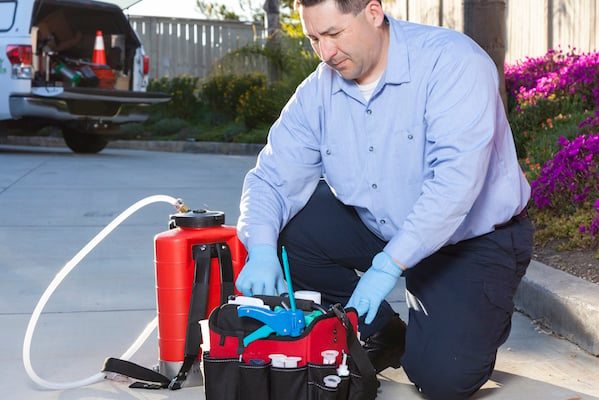 Why choose a professional pest treatment?
The Professional "Pest Spray"
Specialist Pest Control treatments
Some pests will require a specialist treatment – German cockroaches, fleas, mosquitoes and rodents, being common pests requiring a specific treatment using specialist products.
These treatments can be either a stand alone treatment or combined with a general pest treatment.
By combining services you can save a significant amount of money.
A common combination is a general pest spray + annual termite inspection. This combination ensures you protect both your family and home from pests.
Most pest control companies offer commercial pest control services as well as residential pest control.
Although annual pest treatments may be appropriate for some businesses, other businesses, especially in the hospitality and food management industries, will require regular service plans, often quarterly or monthly.
Quality pest control companies will also provide the appropriate documentation and help you set up the necessary systems to protect your business from pests and comply with any associated regulations.
There are a range of pest prevention tips that will minimise the chances of pests becoming established in your home or business. They fall into three main areas:
As pests generally come in from outside there are a number of tips to make the perimeter of your home less attractive to pests.
Ideally remove garden beds around the building – the combination of plants, mulch and water make them a hotspot for many pests, including termites. Use plants in pots instead.
If you decide to have gardens around the perimeter of the building
Keep plants well pruned and away from the house. Trim back any over-hanging branches
Avoid or minimise watering the garden beds
Use a non-organic mulch such as pebbles
Avoid using manure or blood and bone fertilisers in the garden bed
With most pest entering the building from outside, every effort should be made to eliminate the obvious entry points:
Ensure all screen protectors on doors and windows are in good order and well fitting
Fill in any cracks around doors, windows and pipework
Protect weepholes with metal weephole screens (don't fill them in!)
If you are susceptible to rodents or possums entering the roof or sub-floor, all potential entry points should be blocked with suitable rodent proof material
Keep the perimeter of the home, roof void and sub-floor clear of stored goods and rubbish. These create an ideal environment for pests and allow termites to enter the building without being noticed.
If you must store goods in these areas, store the goods in sealed plastic containers (pests love cardboard boxes) and store them off the ground.
Ensure all rubbish is placed in sealed bags, places in solid bids with well-fitting lids and stored away from the building
Do not leave pet food out
Do not leave dirty dishes, spilt food and food waste laying around
Make sure the cooker, oven, grill, dishwasher, toaster, microwave and fridge are cleaned regularly (including underneath) to remove any food residues
Store food in sealed plastic containers
Make sure there are no leaks from dripping taps, pipework or gutters
Eliminate any pools of standing water (potential mosquito breeding sites)
Regularly vacuum all rooms, especially around the edges and under heavy furniture
To prevent termites attacking your home there are a number of specific termite prevention tips
FAQ – Frequently asked questions
Pest Control in the major cities