As an essential piece of pest management kit, we invited readers to share their preferences and experiences about portable sprayers. Read the results of the survey here.

Portable sprayers are perhaps the core piece of equipment for pest managers. Although some pest managers prefer to hook up the vehicle spray tank for spraying the outside of buildings, there's no substitute for portable spray equipment for getting inside buildings. But many pest managers use their portable sprayers inside and out, all day, every day, so it's important to have a piece of kit that you like and trust. So, what are pest managers using?
Over the last three years or so there appears to have been a big shift in the type of sprayers being used by pest managers. Back in 2018 when we carried out some similar research, handheld sprayers were 50% more popular than backpack sprayers. This latest research suggests that 73% of pest managers use a handheld sprayer whilst 83% of pest managers use a backpack sprayer (Figure 1).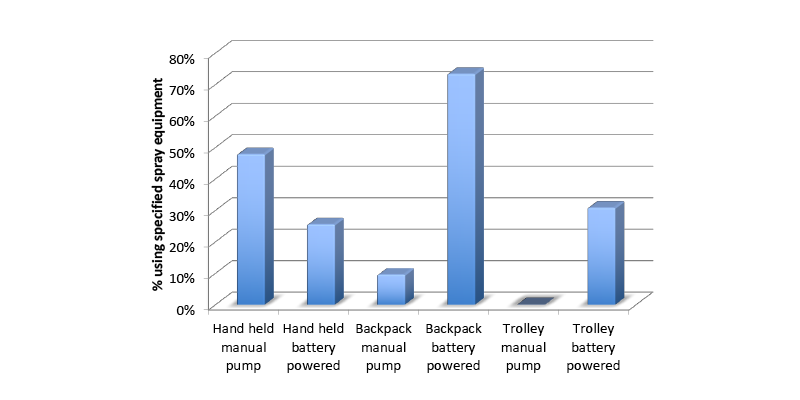 More than two thirds of pest managers (68%) are using more than one type of portable sprayer. The most common combination being a handheld sprayer plus battery backpack sprayer. If pest managers only use one type of sprayer, they will typically only use a backpack sprayer (23%), rather than just a handheld sprayer (6%) or only a trolley sprayer (3%).
This switch to backpack sprayers appears to have been driven by the arrival of reliable battery-powered units. Of those using backpack sprayers, 93% have a battery-powered unit. Pest managers appear to use a wide range of brands – over 20 different brands were mentioned. The most popular was Solo (30%), followed by Flowzone (20%) with Boss and Silvan/Selecta both coming in with 12% of mentions. Backpack users tended to choose larger spray tanks, with 73% of users using 15 L tanks.
Although backpack sprayers are now the most popular type of portable sprayers, handheld sprayers are still used by a majority of pest managers. Of those using a handheld sprayer, the vast majority (88%) use manually pumped sprayers. Not surprisingly B&G (42%) and Rega (30%) were the two most popular brands, with Solo (17%) coming in third. Around half used the traditional 5 L handheld sprayer, but a number reported using a range of sizes between 6 L and 15 L.
Trolley sprayers were the least popular portable sprayer, but they were still used by around 30% of pest managers. In contrast to the handheld and backpack sprayers where a large number of brands were used, one brand dominated this segment – Silvan/Selecta (55%).
The top six features that influenced purchase choice were reliability (81%), comfort/easy to carry (59%) and battery duration (58%). Adjustable pressure/power, weight and price were mentioned by 41% of respondents (Figure 2).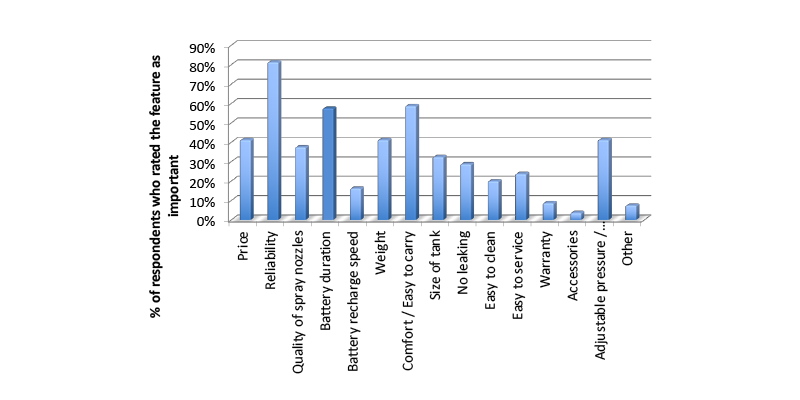 With portable sprayers the workhorse for pest managers, it's not surprising that reliability and ease of use are the main considerations, with pricing less important. However, from the ad hoc comments, it is clear that pricing does play a factor if pest managers are deciding whether they want a 'disposable' sprayer or prefer one that will last several years with regular servicing.
With 19 different brands mentioned in the list of pest managers' favourite sprayers, there are clearly a lot of options on the market and it's certainly not a one size fits all. We'll have a closer look at the different types of portable sprayer in future issues of the magazine.
Back to pest control equipment.