With rodent season underway, now is the ideal time for pest managers to pause and recap the 'three lines of defence' approach to rodent control.
Regardless of which rodent bait is used, it is the placement of the bait that will determine the effectiveness of the treatment. When developing a baiting strategy, a professional pest manager should always think of the 'three lines of defence' against rodents: the fenceline, the external perimeter of the building, and the building interior.
It is imperative that the bait is placed in areas of high activity, or at the very least, as close as possible to rodent runways. Research has shown that no matter how attractive a bait, it is unusual for a rodent to move more than a few feet from its normal pathway. The most effective control option is to stop rodents at the fenceline. However, second generation anticoagulants baits are not registered for fenceline use, so when considering the possibility of fenceline baiting, products such as Rampage should be considered instead.
However, for a variety of access and safety reasons, it is not always possible to secure the fenceline of a property. In such cases, the pest manager should focus on the second line of defence: the building perimeter. As one of the most common rodent entry points into a building is the doorway, it is important to place bait on both the inside and outside of doorways.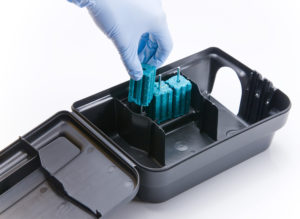 Both rats and mice can, and will, climb to gain access to a building. During an inspection, be sure to check for rodent markings in elevated locations. If signs of rodent activity are detected, be prepared to secure baits and/or traps in those areas.
Once inside a building, bait placement will depend on whether the treatment is for rats or mice. They exhibit different travel habits; mice do not move far from their harbourage whereas rats, particularly roof rats, may travel significant distances. Rats will also jump to reach an attractive food source. It has been reported that some auditors do not accept bait stations fixed off of the ground. A few inches will not affect the uptake of bait but it might keep bait clear from water in a wash-down area, for example in commercial accounts. Pest managers should be prepared to argue for what they know is right!
Whether treating rats or mice, baits should be placed in secured, lockable, and tamper-resistant bait stations. Bait stations protect the bait from the environment – rainfall, dust, and wind can all reduce bait effectiveness – and also serve to protect non-targeted species. Good bait stations should be child-proof and dog-proof as well as prohibiting access by larger animals.
Stations with secured bait appeal to rodent behaviour, as they provide asylum for rodents to eat in peace and out of apparent danger. Secured bait offers traceability, as pest managers can measure the quantity of bait being consumed and determine what is eating it. It is impossible to track what happens to unsecured bait, whether it be dragged and/or dropped, returned to the nest, taken by a non-target creature, or simply moved. Bait stations also look professional, and can be customised to fit a client's needs.
When using rodenticides, pest managers must read and understand the implications of the label for each rodenticide selected. Bait placements will be stipulated by the manufacturer and will vary somewhat from product to product. If there is any uncertainty about the placement or use of a particular rodenticide, it's useful to remember that 'the label is the law'.
More information on rats and mice.