The Agenda Termite Baiting System offers pest managers a huge degree of flexibility, with in-ground and above-ground stations holding significant quantities of bait.
With a wide range of termite baiting options available to pest managers, deciding which system to use can be a challenge. Termites don't stick to the rules, so having a system that allows flexibility in application is essential. You need to make sure you can deal with termites no matter the situation. In many ways, the Agenda termite baiting system can be considered the most complete system on the market.
Agenda is the only baiting system that has aboveground, in-ground and on-ground componentry. The on-ground stations are found quicker than in-ground stations, due to their larger surface area. They can be placed anywhere around the property (Figure 1), even over cracks in concrete.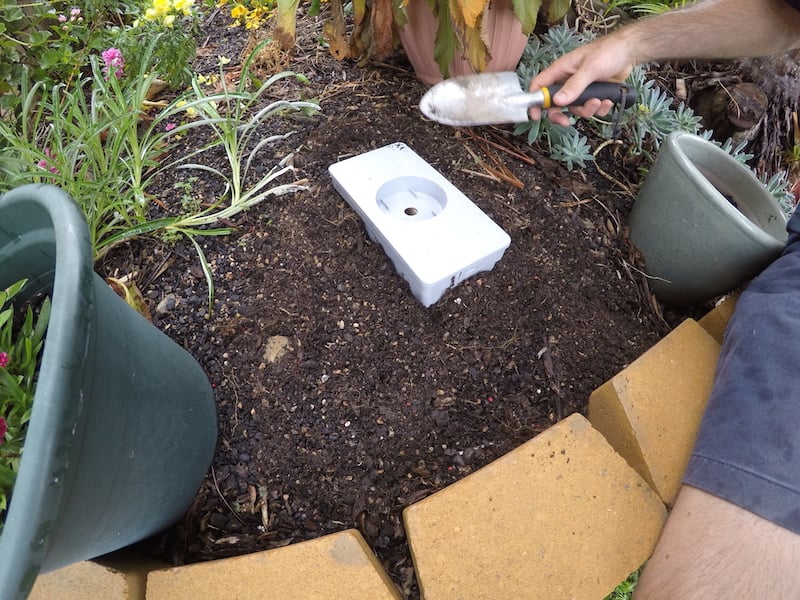 With its large wood source consisting of two different types of timber, termites readily recruit to this significant food source, which they will rarely abandon (Figure 2). This makes the Agenda on-ground stations effective, reliable baiting sites.
The Agenda in-ground stations contain the largest amount of timber on the market, based on the principle that larger food sources are easier to locate and less likely to be abandoned (Figure 3). Indeed, a controlled study undertaken in 2014 looked at the consumption of wood in an Agenda station (containing 314 g of timber) versus the station of a competitor brand (containing 91 g of timber).
After 24 days, the competitor station showed a 79% loss of timber, with no worker termites present. Without the presence of workers, no further wood consumption or potential bait consumption would have been possible. Inspection of the Agenda station after 58 days showed a 79.2% loss of timber with worker and soldier termites still present. Keeping termites in the bait station for longer minimises the chance of termites finding and subsequently abandoning the station between inspections. The clever bait station design allows for quick inspection — holes in the lid will be mudded over if termites are present.
Termite professionals will know that bait acceptability and performance is perhaps the number one factor in choosing a baiting system. The unique Agenda bait pouch provides pest managers with a range of benefits. The aluminium pouch format means there is no contamination through handling, the bait keeps fresh and is easily placed in a wide range of locations — emptied into in-ground stations, placed in on-ground stations or of course in above-ground stations (Figure 4).
Field trials have demonstrated that termites will eat more of the bait in the sachet (98%) compared to bait outside the sachet (75%), presumably as the bait is prevented from drying out. To prepare the bait, water is simply poured into the sachet; there is no need to mix (scan the QR code to watch a video). The resulting pouch holds nearly 800 g of bait, enough for all but the hungriest of termite colonies and certainly enough to avoid being eaten out in between visits (Figure 5).
In-ground monitoring and baiting systems are a proven termite management tool. Whilst there are new systems on the market with bait pre-loaded, the traditional systems still have some significant benefits.
Firstly, the traditional monitoring and baiting systems are more cost effective, with no wasted bait. Secondly, it's important to understand the importance of regular inspections. Whereas some newer systems suggest having fewer inspections each year, there are good reasons why the traditional monitoring and baiting systems advocate inspections every 2-3 months.
Whichever system you use, it is important to identify termite activity. For traditional systems, identifying activity is the trigger to add termite bait. In fact, for all systems the presence of termites should increase the level of alert for the pest manager, signalling the need to check other areas of the property to make sure termites are not attacking the house. If the time between inspection periods is lengthened, the chances of missing activity increases. Indeed, if you push the inspection period out to six months, termites could be in and out of a bait station between inspections.
The importance of regular inspections should be impressed upon the customer. With regular visits, customers feel reassured by your presence and feel like they are getting value for money. Of course, regular visits give the opportunity to build the customer relationship and potentially upsell to other services.
So, if you're looking for a termite monitoring and baiting system that has all bases covered, there's only one product that should be on your agenda — Agenda Termite Bait.